"Like a mythical cat, Paul Tait must have nine lives. Just when you think the long time singer-songwriter-piano player is down and out, he comes back stronger and more vital than the last time you heard him perform. Conjuring the great piano men Billy Joel, Elton John and Randy Newman in his playing, Tait acts as a conduit for life and all its intricacies and boldly scripts those observances into his songs. And while things may not always be seen through rose colored glasses, Tait always manages to be true not only to himself, but to his listeners as well." –Brian M. Owens, publisher Metronome Magazine
"Brilliant music! (Paul Tait is) iconic." -Al Geiner~PR (28 Years of PR)  https://twitter.com/I_PR_THINGS
"Paul Tait is truly one of musics unsung unsigned greats." Boston Rock and Roll Press
This is Paul Tait!  Now includes songs from his recent album!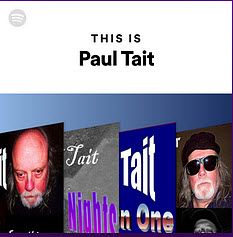 OUT NOW!  OUT NOW!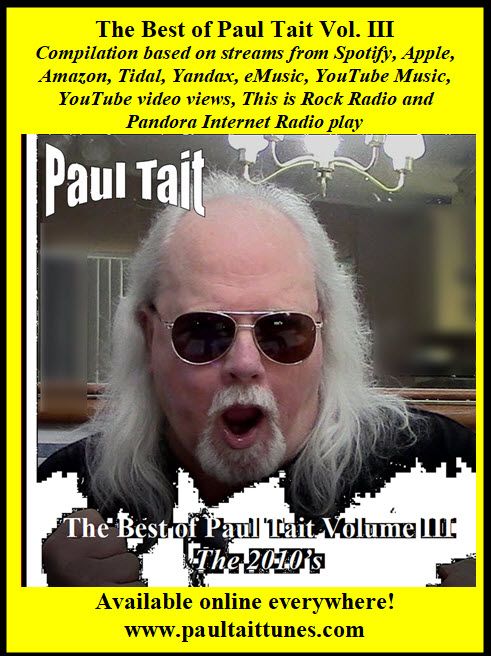 Click HERE to listen on Spotify!!
Unless YouTube makes an adjustment like it did with the "Some Days" views, here are the final stats on "The Weird Old Musician Who Lives Across the Street" video:
38,454 views
Top Countries:
India
Vietnam
Indonesia
Philippines
Mexico
Ukraine
Italy
Thailand
Brazil
Poland
Thank you to all who supported!!
Video link
https://youtu.be/GI9JdPQuccc
Paul Tait Tunes website visits for August 2022:
Patna, Bihar, India
Lucknow, Uttar Pradesh, India
Delhi, National Capital Territory of Delhi
Mumbai, Maharashtra, India
Thank you to the people of India!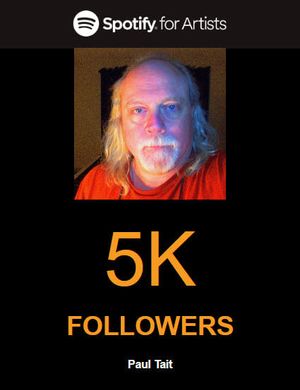 Spotify stats.  Thanks to all who streamed!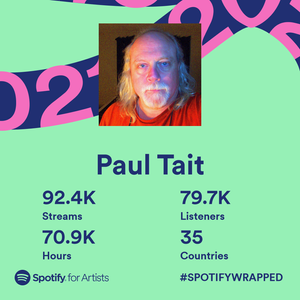 PAUL TAIT is NO ONE from NOWHERE who is EVERYWHERE!
Click HERE for a complete list of Paul's internet links, pages, and profiles!
All this free PAUL TAIT music has been out there for years now!  Take full advantage!
Soundcloud Free Songs (31!)
Click HERE
 
Literary critics say this about "Pamphlet 2020"
"'Pamphlet 2020' by Paul Tait reawakened my awareness that true poetry is still alive today. His words are reminiscent of some of the poets in the early 1900s, such as T.S. Eliot and W.H. Auden." -Erin Nicole Cochran
"Paul's use of the English language is enviable, he can evoke self-reflection in such a compelling way on all manner of subjects." -Lesley Jones
"'Pamphlet 2020' is a rich collection and the topical diversity when it comes to themes and style makes it a work that will be enjoyed by a wide audience." -Romuald Dzemo
"The imagery and ideas he conveys are wide-ranging, and the thoughts and emotions he evokes are provocative, spot-on, and inspirational." -Tammy Ruggles
For full reviews go to Poetry Book Reviews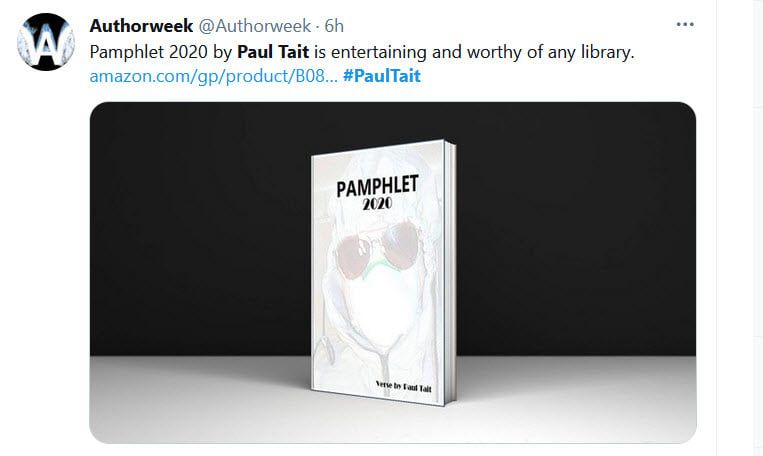 Click HERE to purchase from Amazon
Paul Tait: The Rockers
Select rockers from singer-songwriter-pianist Paul Tait. From the 80's, 90's, 2000's, and 2010's
Paul Tait: The Ballads
Select ballads from singer-songwriter-pianist Paul Tait. From the 80's, 90's, 2000's, and 2010's
New interview:
Click HERE
TAIT has HEART
HEART has TAIT
iHEART RADIO!!
https://www.iheart.com/artist/paul-tait-688010/
Don't forget Paul is featured on Pandora Internet Radio:
https://www.pandora.com/
"Aftermath of Time" was written in 1999. Demoed then, and in 2012 given the full studio treatment and released on "PTEP8".
Paul revisited the song the night of July 1, 2022...
(Note you may have to turn the sound icon on)
© 1999, 2012 Paul Tait
Click HERE
"As Then Is Now"
On the CD "Diligence: 1983-2003"
Audio Only
4 track analog!
© 2001 Paul Tait
Click HERE
SPECIAL Threefer...
Paul plays some oldies from his mixed club sets 80's-90's.  "The Breakup Song" (Greg Khin), "Too Much Love Will Kill You" (Queen), and "Daydream, Believer" (The Monkees).
Click HERE
Paul's complete catalog of CD's is available on
24-7, 7digital, Amazon Music, Anghami, Apple iTunes, AWA, Boomplay, Deezer, Hungama, iHeartRadio, iMusica, InProdicon, KDigital, KKBox, Kuack, Line Music, MediaNet, Napster, NetEase Cloud Music, Pandora, Qobuz, Resso, Saavn, Shazam, Slacker Radio, SoundExchange, Spotify, Tencent Music Entertainment (TME), Tidal, TikTok, United Media Agency (UMA), Yandex, YouTube Music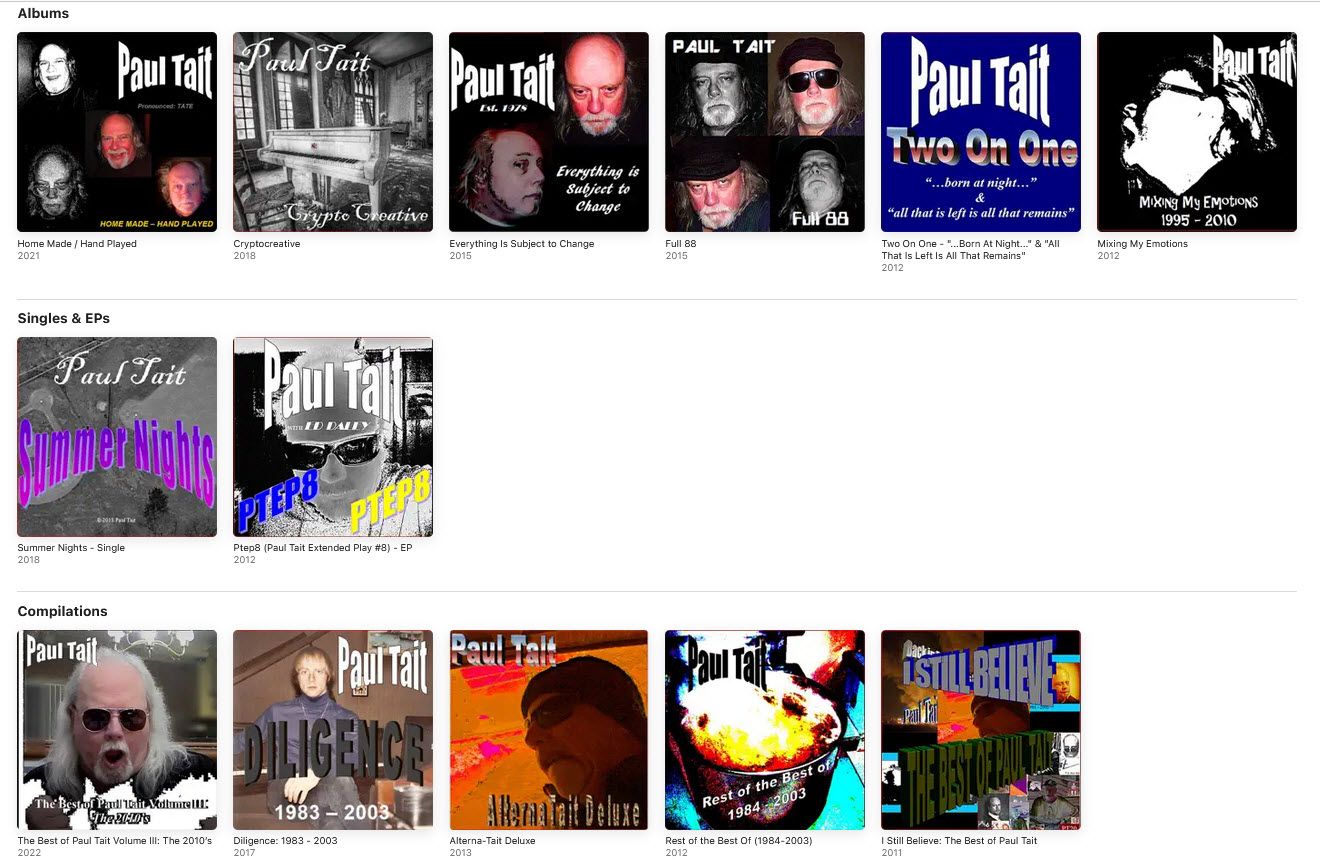 Paul's complete catalog of verse is available on
iBooks, Amazon Kindle, Barnes & Noble, Kobo, Baker & Taylor, Copia, Gardners, eSentral, Scribd, Goodreads, Ciando, Vearsa (Google Play, Overdrive, Playster, Hoopla)