"Like a mythical cat, Paul Tait must have nine lives. Just when you think the long time singer-songwriter-piano player is down and out, he comes back stronger and more vital than the last time you heard him perform. Conjuring the great piano men Billy Joel, Elton John and Randy Newman in his playing, Tait acts as a conduit for life and all its intricacies and boldly scripts those observances into his songs. And while things may not always be seen through rose colored glasses, Tait always manages to be true not only to himself, but to his listeners as well." –Brian M. Owens, publisher Metronome Magazine
"Brilliant music! (Paul Tait is) iconic." -Al Geiner~PR (28 Years of PR)  https://twitter.com/I_PR_THINGS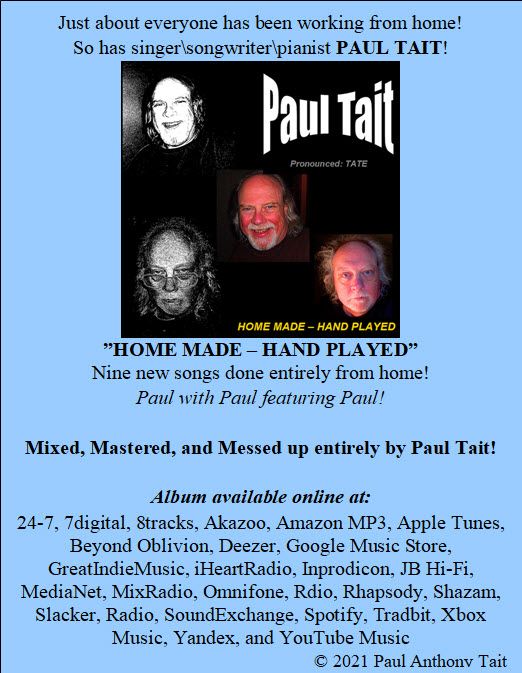 New promoted Video: What Do You Want
Click HERE
LISTEN to full album for free here at
https://open.spotify.com/album/0vVA2KkqoqDIT0BSGtjtlu?si=J1o1XlSbQhaSF8AcY0NEgg&dl_branch=1
And here at
https://music.youtube.com/playlist?list=OLAK5uy_mNcrIkvl3GHIj3mvdoXvkONRAupC3kfUI&feature=share
PAUL TAIT is NO ONE from NOWHERE who is EVERYWHERE!
Click HERE for a complete list of Paul's internet links, pages, and profiles!
THIS IS PAUL TAIT!  The Essential Tracks on Spotify generated by Spotify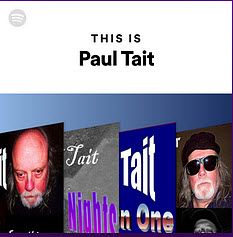 10 years ago this album was released world-wide via TuneCore.  Currently it is paired with 2010's "...born at night..." on the album "Two On One".
Here it is in it's original nine song configuration.
"all that is left is all that remains"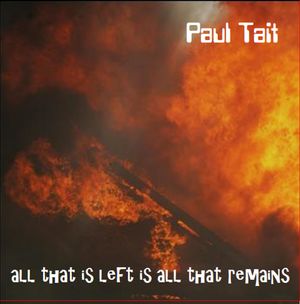 Here are the videos made for "all that is left is all that remains".  The only album Paul made that has a video for every song!
https://youtube.com/playlist?list=PLN_hWjgVgXu7WESQhAG0YoQjW_eiFfho1
Don't forget to visit and like these new Facebook pages for Paul and North Central Productions!

https://www.facebook.com/paultaitartistpage
https://www.facebook.com/North-Central-Productions-102627080079375
Paul Tait: The Ballads
Select ballads from singer-songwriter-pianist Paul Tait. From the 80's, 90's, 2000's, and 2010's
New interview:
Click HERE
Paul Tait re-emerged in 2010 with a new album of tunes.  He would go on to release seven albums of brand new songs between 2010 and 2018.  Here are 16 select cuts. Click HERE 
And here is a companion playlist called  "Paul Tait in the 2010's: The Album Cuts"  18 tracks!!  Click HERE
Paul Tait's video output for 2018!  Click HERE to watch all SIX videos from "CryptoCreative".
TAIT has HEART
HEART has TAIT
iHEART RADIO!!
https://www.iheart.com/artist/paul-tait-688010/
Don't forget Paul is featured on Pandora Internet Radio:
https://www.pandora.com/
Paul's complete catalog of CD's is available on
24-7, 7digital, Amazon Music, Anghami, Apple iTunes, AWA, Boomplay, Deezer, Hungama, iHeartRadio, iMusica, InProdicon, KDigital, KKBox, Kuack, Line Music, MediaNet, Napster, NetEase Cloud Music, Pandora, Qobuz, Resso, Saavn, Shazam, Slacker Radio, SoundExchange, Spotify, Tencent Music Entertainment (TME), Tidal, TikTok, United Media Agency (UMA), Yandex, YouTube Music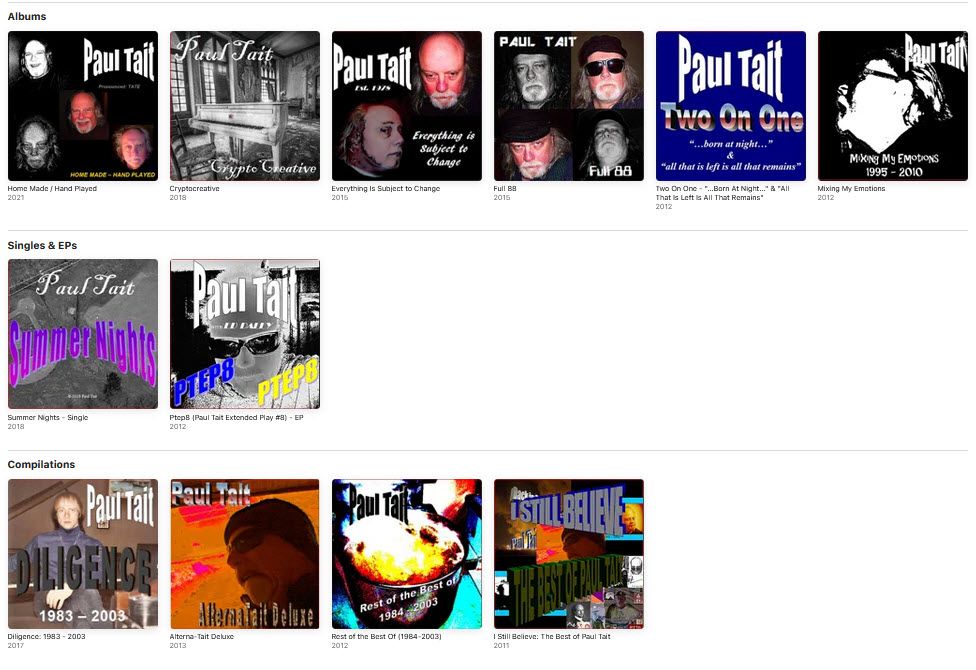 Paul's complete catalog of verse is available on
iBooks, Amazon Kindle, Barnes & Noble, Kobo, Baker & Taylor, Copia, Gardners, eSentral, Scribd, Goodreads, Ciando, Vearsa (Google Play, Overdrive, Playster, Hoopla)