"BRILLIANT, SIMPLY BRILLIANT"
Scroll for full reviews of each of Paul's published volumes
All of Paul's volumes of verse are available from any of the following e-pub online stores:
iBooks, Amazon Kindle, Barnes & Noble, Kobo, Baker & Taylor, Copia, Gardners, eSentral, Scribd, Goodreads, Ciando, Vearsa (Google Play, Overdrive, Playster, Hoopla)




Pamphlet 2020
Reviewed By Jamie Michele for Readers' Favorite
Five Stars
Pamphlet 2020 by Paul Tait is a compilation of the author's original poems, presented in written and chronological order as they were created during the tumultuous year of 2020. Tait's prolific capabilities are on full display with a mind-boggling anthology of work that hovers at a hundred, all free form in style but free-flowing in rhythm. To put this into perspective, Tait essentially wrote a complete poem every three and a half days; a remarkable volume given the quality of work produced. From Don't Bother They're Here and its thoughtfully acerbic play on the biblical book of Revelation's Four Horsemen of the Apocalypse to Silent Turbulence, a profoundly honest ode to the fallacy of pain's departure with haunting lines that read, "Time heals nothing, Absence makes nothing fonder, Why were the lies, Written on our eyes..."

It took some time for me to unpack the work of Paul Tait as it is given to us in Pamphlet 2020. In truth, it took some time for me to decide to even pick it up on account of a cover that didn't appeal to me in the least. Thank goodness my curiosity prevailed, ironically due to the same cover taunting me because the journey between was intriguing. Poetry is highly subjective and deeply personal, and there were definitely pieces I read multiple times to decipher their meaning, while others were easier to understand without sacrifice of the complex nature of Tait's writing. My personal favorite fell into the former category, entitled Minutia, a fitting entry into grasping the banality of life as the source of exactly the beauty we look for in larger moments.
Pamphlet 2020 is a book for those with a more sophisticated, intellectual appreciation of poetry and among those, such as myself, who enjoy wordplay that provokes a lot of thought, this will certainly be well received.
Review for Pamphlet 2020
Reviewed By Lesley Jones for Readers' Favorite
Five Stars
Pamphlet 2020 is written by Paul Tait. This collection of thought-provoking poetry encapsulates the level of emotions, uncertainty and change humanity experienced in 2020. Human emotions and their relationships with one another are analyzed and the flaws and strengths uncovered. Emotions such as grief, love, pain, desperation and fear are depicted with realism and flawless truth. How will our lives change in the future and will civilization ever return to normal? Will mankind take this moment to reflect on their futures and discover if their lives have matched their authentic selves? Is it time for each of us to begin making choices that serve our core values and beliefs and not live a synthetic life for materialistic and social approval gains? This point is highlighted perfectly in The Beatitude, 'When I was younger I feared being alone. Convinced me I needed. To be needed.' The chaos and violence between different groups of people who have differing opinions are also examined as we are forced to ask the question has freedom of expression and opinion ceased to exist.

In Pamphlet 2020 by Paul Tait, each of the poems in this collection is extremely powerful, poignant and inspiring. Paul's use of the English language is enviable, he can evoke self-reflection in such a compelling way on all manner of subjects. In Ask Me Plain, I gained an empowering sense to free myself from negative thoughts; 'Time is wasted on the blind. On those trapped within their minds.' His analysis of the human mind and how this affects our perception of reality and the world, in general, was fantastic. Head On Down was a powerful reminder of how we are all manipulated by marketing and materialism. There are beautiful words of wisdom and life lessons in each poem that will motivate positive change. One of my absolute favorite poems was Minutia, 'Keep it simple. Do not be lead. The perfection you seek. Is all in your head'. The message relayed in Cryptic Layers gave me goosebumps as we are encouraged to become independent thinkers, ' Awareness can be fragile. As it changes perception.' Finally, Moment covers the natural law of the Universe with complete clarity, 'For every moment. There is an opposite. Just as every action. Has an equal reaction.' An absolute must-read.
Review for "Pamphlet 2020"
Reviewed By Romuald Dzemo for Readers' Favorite
5 Stars
Pamphlet 2020 by Paul Tait is a collection of poetry that is written during 2020. In a style that is hugely metaphorical, the author explores themes of existentialism, the crude monotony of watching the same dismal reality staring us in the face. The poetry treats political and social themes, among others, and the author captures strong moments of a shared experience in an intimate manner. There is a lot in this collection of one-hundred-and-something poems, from personal experiences to the social conundrum, from observations of nature to a critique of the status quo, from uplifting thoughts to insightful observations about life and the human experience. The author writes about humanity, human pain, human intercourse, hope, despair, and a lot more. Each poem reads like an instance of breath, capturing a moment; some read like intense emotion, a thought, an insight. They are gorgeous and many readers can easily follow the currents that flow through each verse.

Paul Tait is a gifted poet and one of the things I loved about this collection is that the author awakens feelings and thoughts in readers. Some of the poems are insightful, with lines to unfold by. For this author, words are symbolic and some of the single-word lines will have readers thinking beyond mere words for deeper meaning. There are many instances where the author moves from describing a personal experience to offering words of wisdom that are universal. Pamphlet 2020 is a rich collection and the topical diversity when it comes to themes and style makes it a work that will be enjoyed by a wide audience. It is important to note that each poem is unique. Some are written as a soliloquy, some address specific subjects in a style that is rhetorical, some are succinct descriptions of moments, emotions, and thoughts that readers will identify with easily. It is an engaging collection that had me mulling over some of the seemingly insignificant, yet important things that happened through 2020.
Review for Pamphlet 2020
By Erin Nicole Cochran for Reader's Favorite
Four Stars
In Paul Tait's Pamphlet 2020, pathways that are tied together through poetry lead us to moments in time that speak to the man himself. And in turn, he speaks through them to us, his readers. In this way he is a bit like an interpreter, his feelings being his own specific language. He assembles historical snapshots of war and civilization in a way that feels as though he has been there to witness it for himself. For the reader, who is taking in this panoramic view, it is like having a first-row seat at a play that is set back in another time.

Pamphlet 2020 by Paul Tait reawakened my awareness that true poetry is still alive today. His words are reminiscent of some of the poets in the early 1900s, such as T.S. Eliot and W.H. Auden. A much older soul seems to careen through these pages of flashes found in times past, dipped into pixel black "ink" for our eyes only. Not to say that all the poetry in this collection is past based. There are many poems that are in the present, that we can easily find ourselves relating to. One of my favorite poems from Tait's Pamphlet 2020 was on page 12, "Head on Down" - it has this preach-free balance to it that the world needs more of lately. Tait's proficiency in narration style seems able to command the mind to set itself free, to get lost in the words, if only for an hour or so when we need it the most.
Review of Pamphlet 2020
By Tammy Ruggles for Readers' Favorite
Five Stars
Pamphlet 2020 by Paul Tait is a visceral volume of poetry written by an accomplished writer and musician. His musical side is quite evident in his poetry--some lyrical, some as rapid as drumsticks that roll down the page. The imagery and ideas he conveys are wide-ranging, and the thoughts and emotions he evokes are provocative, spot-on, and inspirational. Though some of the poems reflect times of the 2020 pandemic, others do not. But you will be glad to become acquainted with Tait's poetry if you aren't already.

I love the slice-of-life morsels Tait offers with his poems. There is something blunt and shorthand about some of them, which I like for their immediacy, and yet others weave a dreamlike feel. I like that he does both amazingly well. There is something a bit clandestine in some of the poems, like "Head On Down", as if there is some hidden knowledge he's aware of; some secret that he wants to share but holds back. He leaves the interpretation to the reader, which is the way I like my poetry and music. I appreciate the religious imagery--so vivid and alive. And I appreciate the quieter tones as well. Given to rhyming poetry, I admire his rhythm, and this is where Tait really shines. Some of his poems are about specific locations, and they invite the reader to vicariously visit those places with him through the words. I like his observations on individuality, and the way he blends love with nature and tries to make sense of the world and what is going on around him. Pamphlet 2020 by Paul Tait is for the longtime poetry lover, or for those who want an impactful introduction to it.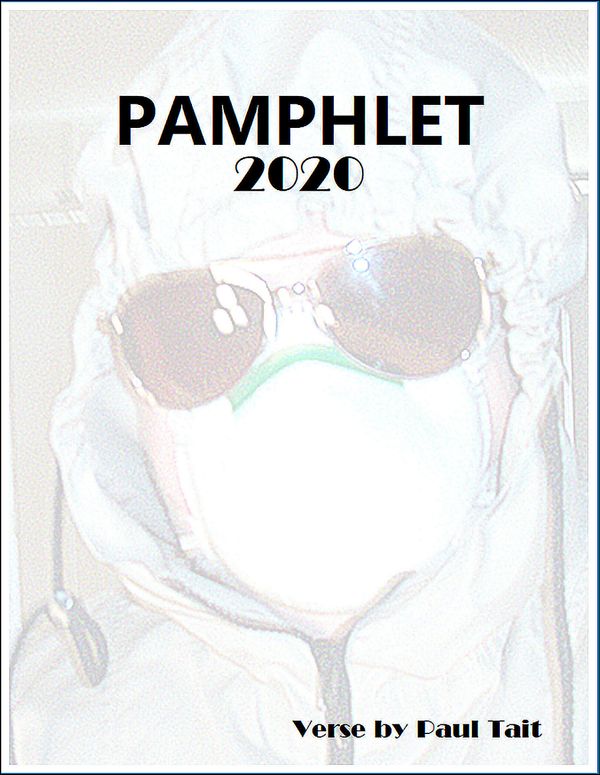 Here are the reviews for "Boston Dialect, Volume Two" (courtesy of Reader's Favorite)
Boston Dialect Volume Two
5 Stars
Only a small percentage of poetry can move me. I like Poe and I'm fond of Japanese Haiku. Maybe that is why I liked Paul Tait's Boston Dialect: Volume Two so much. Most of it is sharp, insightful and to the point. But some of it is oblique and tinged with a darkness I find appealing. He is a master at using words to elicit an emotional response. I can't say I understand his method or his madness, but boy do I feel it. I like that. I don't need or want to understand every nuance, but I do like to feel the power of the words and the emotions behind them. That is the essence of the reading experience. I think that is the essence of life, but I could be wrong.

The poetry of Paul Tait is impossible to classify. Indeed, it defies showing any attempts at being like anything else I have read. This may not be saying much. I don't consider myself an avid reader of poetry, but I do enjoy the work of some poets and I am happy to say that Paul Tait is one of them. I particularly enjoyed "Imagination Mirrored," "Unfinished Music" and "Train to the Heart of Tomorrow." I don't know if I can adequately explain why. I am not a poet, nor have I studied or reviewed much poetry. I just know that the words of Paul Tait are very powerful and if your taste is similar to mine you will love Boston Dialect: Volume Two.  - Reviewed By Ray Simmons
Boston Dialect Volume Two
5 Stars
 Boston Dialect: Volume Two is a positively gluttonous feast of over a hundred freestyle poems that I had been hungrily looking forward to since I read Boston Dialect: Volume One. It is a rare treat to find so much by a living poet presented together, but Paul Tait is a very prolific writer who allows his imagination free rein over almost every subject under the sun. These poems reflect yet more aspects of the poet's "real life", because he is creative musically too – composer, pianist, singer - and as haunted as we all are by birth, death, and the search for love. The very last poem, Unfinished Music, says it all: "Unfinished music fills my book, work unwritten distracts my look, timeless wanders to the orchid of love I go".

To quote the title of one of Paul Tait's own songs, "I didn't quit I surrendered" when I opened a copy of Boston Dialect: Volume Two. Nothing else existed for me; I was captivated until I reached the end and, of course, I have my favourites. There are poems to fascinate every reader, but these called to an echo in my mind and heart. The Mystery of Me, Train to the Heart of Tomorrow, Boston Weather, Mozart on the Grand, and the heartfelt FedEx Traffic Log. Some are long and some no more than four or five lines – they all make you stop, think, and feel. In Boston Dialect: Volume Two, Paul Tate has given us a book with worldwide appeal that whets the appetite for more. - Reviewed By Sarah Stuart
Boston Dialect Volume Two
5 Stars
Boston Dialect: Volume Two by Paul Tait is the second compilation of poetry intended to inspire and spark buried emotions that dwell inside the heart. From loss and love, anger and resentment to mourning a loss through death, these words are meant to make the reader feel and can even allow the heart to permit its break to heal. It is important that poetry speaks volumes and pulls the heart strings that allow emotions to be expressed in a meaningful and healthy way. Boston Dialect can do that very thing with the various subjects and fundamental topics that are compiled within these pages.

I loved Boston Dialect: Volume Two by Paul Tait because he is not afraid to touch on cliched ideas and deliver them in a new way through poetry that makes an ordinary subject come to life in verse. The way Tait pulls his verses together in a well thought out and heartfelt way makes for a wonderful book of poetry even for someone who does not typically read poems. The poetry in Boston Dialect can make the heart sing to an unheard tune; it can make you feel like laughing, crying, falling in and out of love as well as making your heart break for the loss of the dearest love in your life. I recommend Boston Dialect by Paul Tait for anyone, for any occasion, because this book of poetry really does contain something for everyone to enjoy. This book is truly a five star collection written by a five star poet! - Reviewed By Amy Raines
Boston Dialect Volume Two
5 Stars
 In Boston Dialect, Volume Two, Paul Tait gives us poems written with a sureness in tone and voice. He draws a line between free verse and occasional rhyming and does it well. There is nothing cute about his messages to the world. He speaks with resignation at times, as all good poets do, but there is something for just about everyone and imagery galore. Some recurring themes include God, the sky, and loves, both past and perhaps present, Christmas, and his mother's death. As with any good poetry, these poems resonate best and most agreeably when read out loud. None is so long as to lose our attention. Only separated by their titles, Tait's poems form a narrative or a series of journal entries, and that is certainly not a bad thing, feeding, as it does, our willingness to keep reading.

I loved the flow of the poems and, in particular, their readability. Paul Tait's Boston Dialect, Volume Two has poems for every taste or choice of theme. They range from Your Love is a Salve, where one's love is described as "soothing, moving mountains, changing currents to gold", and "Grounded Sun", a lament for the passing of summer: "She lied: She didn't stay forever Death was her lover…" In Sweet, we hear a plea to "Dress in sex…Oh honey…Use it all Use it well". Tait shows us his love of words and his natural poetic skill. His observations on everyday concerns or personal history are not so much unique but more in the ways they are expressed, urging us to listen, whether we understand their intended messages or interpret them within the framework of our own experiences. Tait's poetry connects with us readers, and that's what makes it triumphant. - A. L. Peevey
Boston Dialect Volume Two
5 Stars
 Boston Dialect, Volume Two is a collection of poetic verses created by author Paul Tait. This second collection continues from the first to chronicle a series of poems which were originally penned in a collected stream of consciousness style without any titles or real separation of thoughts. For this collection, half of those works have been titled and given some navigational ease for the reader, though the poems are still in the intended reading order to recapture that train of thought feel. The works uncover an emotional spectrum of inspiration and thought processes as we follow the connecting – and sometimes disconnecting – ideas that enter the poet's mind.

Knowing Paul Tait's continuous style in advance makes Boston Dialect, Volume Two a really interesting read on another level to most poetic works. With around fifty poems to choose from, there is sure to be something in each individual work which will touch the heart and/or mind of its reader, but for me as a writer I found it fascinating to unpick the connections which take you from one expression to another. For example, when Christmas arrives in the writer's life, the expressions become more emotional and the backdrop is much darker and colder during the descriptive imagery of the works. There is also a strong theme of loss, troubled relationships and struggling which I found powerful and moving. Overall, I'd certainly recommend Boston Dialect, Volume Two for poetry fans as Paul Tait is a very talented and emotive creator of verse. -K.C. Finn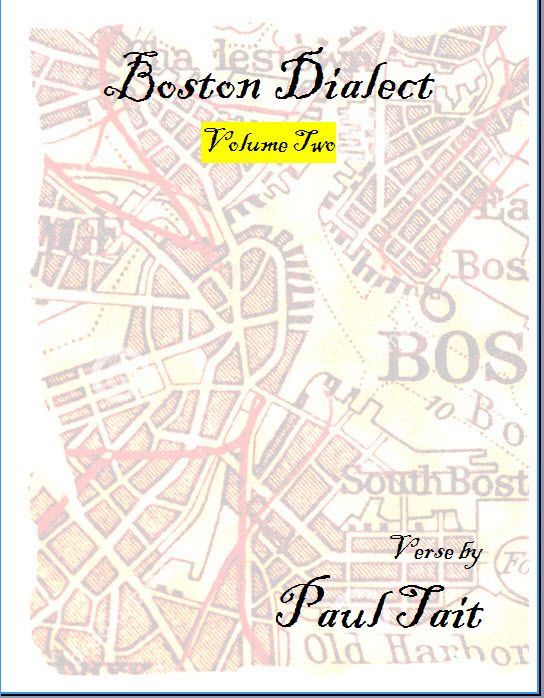 Here are the reviews for "Boston Dialect, Volume One" (courtesy of Reader's Favorite)
 
"5 Stars
The first poem in Boston Dialect: Volume One, Ashes Lent, gives a hint at a religious, or at least deep-thinking man in Paul Tait. According to the introduction, none of the poems had titles originally; they were an expression of his on-going thoughts. The titles are intriguing, and the sheer number of poems – more than in any poetry book I have read before – gives a clue as to how much they vary and, to a degree, reflect a fascinating life. But this is more than a life story, or part of one, of a musician – singer, pianist, band leader, and composer - because Paul Tait delves deep into his psyche, and his poetry is powerful due to that. Join him and be enriched by the experience.

Boston Dialect: Volume One is a book that left me wanting to read Volume Two: the sign of a very good book whatever the genre. I confess to a love of freestyle poetry – words unhampered by the need for rhyme or verses - and these flow one into the next like a river running to the sea, sometimes fast with floodwater and at others peaceful. It's impossible not to choose favourites and these were mine. I Know as Much as I Do: We are the Children of Promiscuous Sin, Art Net Confines – who could resist "The gain and the cost The chain and the frost I can tabulate"? – and I Thought I Knew the Way Back to God. Paul Tait's Boston Dialect is inspirational; to read his poetry is to pass through a gateway into another world." - Sarah Stuart
"5 Stars
In Boston Dialect: Volume I, a book of poems by the singer and songwriter Paul Tait, each work delves into the author's creative thought process. In a frank prose that is in some ways darker in tone than his previous work, Tait still manages to invite the reader with him on a journey of self discovery, with a certain grasp on lyricism that demands each page be read aloud even as he dives into topics like suicide, and love captured and lost. As with his previous book, Seven Centers, Tait continues to evoke a feeling of song lyrics, drawing the reader in with how the words are arranged and the cadences employed. His talent as a poet grows stronger with each work. Tait hops between a few different topics in Boston Dialect and while these are filled with more of a dark vein, he seems to build up the theme of Boston well.

As always, Tait uses a minimalist approach, one that manages to capture the essence of his thoughts and convey them to the reader without weighing them down in a torrent of florid prose. In Boston Dialect: Volume I, as with his previous work, Paul Tait has managed to create a simple collection that is sure to sit with the reader long after they have finished the last page. I enjoyed every passage and feel that Boston Dialect by Paul Tait should be a great read for fans of poetry as it illustrates the creative mind and stirs the senses." -Kayti Nika Raet
"5 Stars
Boston Dialect: Volume One by Paul Tait is a poetry collection that takes a hard look at life and its fabric of interpersonal relations, and explores the thought processes of the personae. Tait's poetry flows gracefully and is imbued with an energy that issues from the conversational tone in which it is composed. There is an affirmed intimacy with the use of the "first person" and readers can see someone in dialogue with the world around him, a relationship with things and people — dreams, feelings, thoughts, places. Paul Tait writes:

"I'm a new actor on
A stage of continuance
Grow and be
Grow and be
– Be."

There is also a crispness in the expression that captures the poet's most intimate thoughts and his sense of self-awareness in the best, most visceral way, embracing a diversity of emotions — awe, hope and fear, longing, indifference. The poet captures powerful images of the world around him while remaining lovingly and deeply personal. At times this collection reads like a nonstop stream of consciousness, a reflection on humanity and values like hope, faith, love, and loyalty. Some poems capture, in vivid clarity and simplicity of phrase, the poet's own thoughts on serious subjects. At times a word, an expression, a stanza stands out and speaks powerfully to the reader — urging them on to move forward, to fight, to not give up:

'"Don't give up"
Your life is more
Than what you feel
Your hour rises above
The dream…"

Boston Dialect: Volume One is as inspiring as it is deeply moving and the poet gives voice to some of the indescribable sentiments that visit the human spirit, at times in the hushed hours of the day, like the dream one has and doesn't want to wake up from, like a new discovery of a reality that has been there before one's eyes, veiled by the banality of life. The diction is beautiful and the lines of these poems are rhythmic. One of the greatest appeals of this collection lies in the simplicity of phrase and the sharpness of thought. A really enjoyable read, indeed." -Ruffina Oserio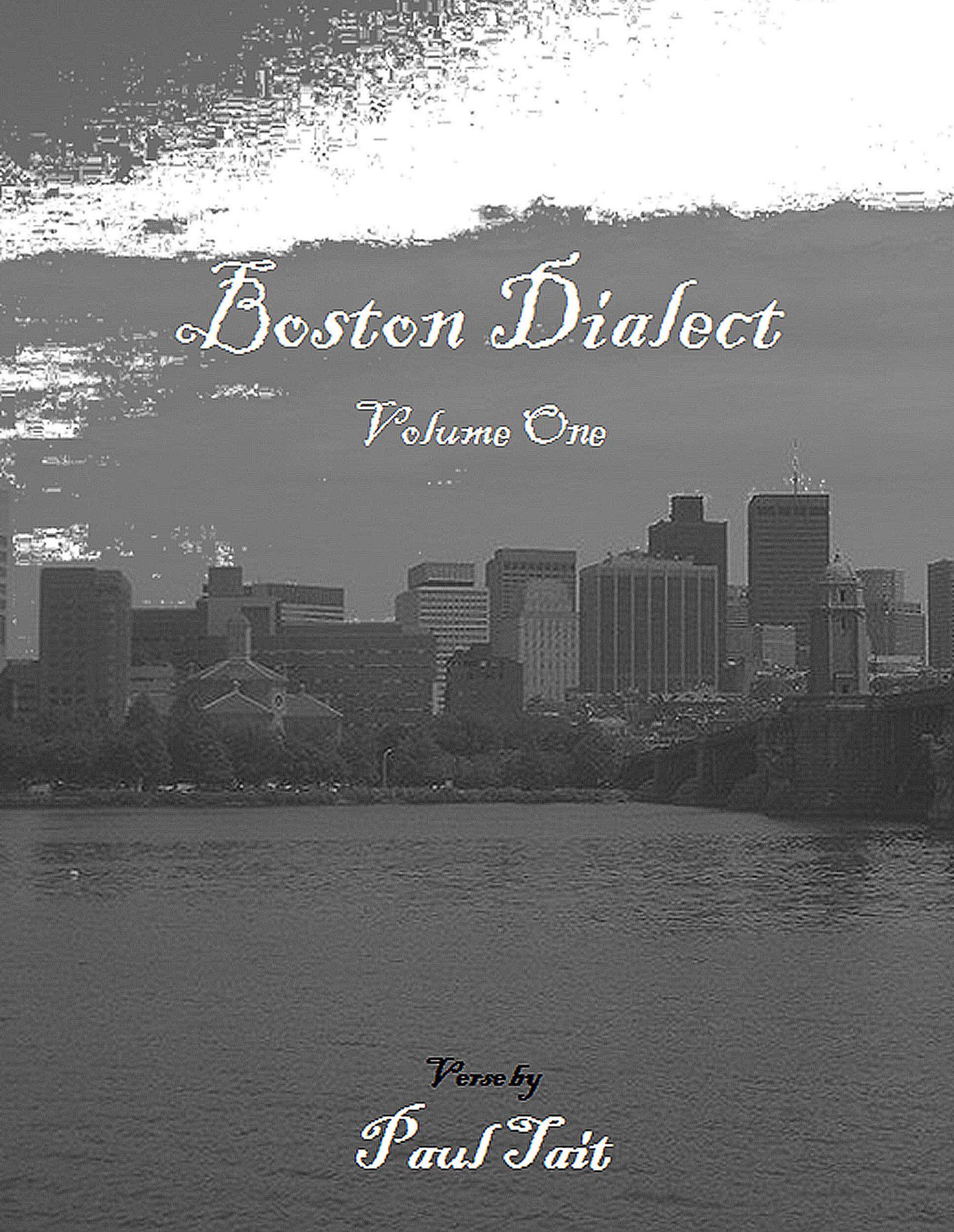 Reviews are in for "Seven Centers"!
5 Star Review
Seven Centers by Paul Tait is a slim but compelling collection of poems that are both entertaining and laced with insight. In this collection, readers find poems that regroup a variety of existential themes — life, suffering, the inner life, spirituality, co-existence, nature, and a lot more. The poems are short and telling, each with its unique form. The short lines create a rhythm that readers will find interesting and arresting. The poems are written in a style that is simple and unpretentious. Intelligently crafted, each poem invites the reader to step into the author's experience, exploring emotions that readers are familiar with. Each poem is a world in itself, a universe that captures a specific reality.

Some of the poems read like short narratives and readers will notice the consciousness and the emotional depth conveyed through the poems. Paul Tait is a gifted poet who knows how to capture emotions in succinct, ebullient language. I enjoyed the fact that the poems are not stuffed with ideas; each poem handles an idea, an emotion, and an instance of life. Some poets want to put a lot into a poem and end up distracting the reader's focus. Seven Centers is gorgeous and readers with different tastes will be able to find something to delight in. The poet writes from the heart and identifies with his subject in many instances. The author uses symbolism and other stylistic elements to make this collection a wonderful read. This will appeal to fans of poetry, a really delightful read. -Reviewed by Arya Fomonyuy
5 Star Review
An exquisite collection that will appeal to a wide audience, Seven Centers by Paul Tait is an enjoyable read. The poems are short and free, and infused with a life of their own. The style is unique and the tone is poignant. I enjoyed the diction, accessible and easy for the ordinary reader. The lines are beautifully composed with punctuation that is accomplished to great poetic and dramatic effect. Readers will find poems that tell a story, others that just capture powerful emotions, and others that deliver the author's judgement on life. Overall, they are pearls that will warm the reader's heart, remind them of some of the precious moments in life, and plunge them into a world where life speaks to them.

Seven Centers features a variety of themes, but it is the author's perception of life that particularly caught my attention and the way he looks at human encounters. The writing is rhythmic and the use of the first person allows the reader to share the author's experiences and their worldview. I enjoyed the poems and often felt like some were just teasers, because they left me wanting more. Some of the poems are emotionally charged, some are mere observations of reality from the person's viewpoint, while others are just brilliant thoughts expressed in an excellent style. Paul Tait is a great poet with a unique style; his poetry is free like the wind, written in a language that readers will easily understand. This collection is worthwhile read.  -Reviewed by Christian Sia
5 Star Review
Seven Centers takes you on an amazing journey of free verse poetry, as presented and written by Paul Tait. Dealing with so many aspects of life, emotions, retribution, heartbreak and more, Paul Tait has laid his soul bare in powerful, yet fluid verses which drill right to the core of one's beliefs. Many poems are reminiscent of a dark and meaningful dialogue between two hosts. Philosophical in nature, some poems are quite dark, while others carry an abundance of hope which is dipped in faith, as one glimpses into the mind and soul of the author.

Paul Tait's empowering and emotional tome brings to life the various stages in our existence which have caused us to trip and stumble, as the world peers inside our soul to see what will take us through another day. Being a hopeless romantic, I could not help but connect with I Can Tell Your Heart When I Hold Your Hand, as it seemed to speak the heartfelt words which I find so hard to express. Bone Meal is another title which engulfed me, as it details a person who has emotionally been stripped down to the bare essence of just being. Each of the poems from Seven Centers will tap into a new and unexplored part of who you are, as you cannot help but just feel the words wash over you. I very much enjoyed the combination of turbulence and calm contained within Seven Centers and wholeheartedly recommend it to those who enjoy the emotional journey which life and one's true heart-spring can bring. -Reviewed by Rosie Malezer
4 Star Review
In Seven Centers, a book of poems by singer and songwriter Paul Tait, each poem delves into the mundane and the extraordinary. Sometimes frank, sometimes effervescent, Tait invites the reader with him on a journey of self discovery with a certain grasp on lyricism that demands each page be read aloud as he dives into what truly makes us human and connects all of us together.

As I was reading Seven Centers, I found myself thinking of each piece of work as song lyrics in how they were arranged and the cadences employed, so I was pleasantly surprised to discover though his bio that he was heavily involved in the music scene. His experience shows through with each work. Tait hops between a few different topics in Seven Centers, but home and love seem to be a central theme, and they all seem to culminate in Heart Holding Home. A simple poem, but one that I feel carries a lot of emotional impact. Tait uses a minimalist approach throughout and manages to capture the essence of his thoughts and convey this to the reader without weighing  them down in a torrent of florid prose.

In Seven Centers, Paul Tait creates a simple collection that is sure to sit with the reader long after the last page is turned. I enjoyed every passage and feel that Seven Centers would be a great read for fans of poetry and, if he is as prolific with his poetry as he is with his music, I expect his name to be one that I see more often in the future. - Reviewed by Kayti Nika Raet
4 Star Review
Seven Centers by Paul Tait is a collection of poems that is an addendum or sequel to his previous collection called Sand 'n Ashes. Having read Paul's previous collections of poems including Sand 'n Ashes, I thought Seven Centers continued on upon the general theme of life, struggle, existential questions such as who we are, why we are here, and the purpose of life and death, as well as love and heartbreak. The book is simply formatted with no introduction and just a table of contents with the poems beginning right after. There is a short bio of Paul Tait at the end.

Seven Centers by Paul Tait is an eclectic mix of poems although quite a few of them appear to dwell on the motifs of separation or isolation or simply being alone. There is an existential angst in some of the poems which I liked. I did not enjoy all of the poems in the book and felt that they didn't seem to resonate with me either in subject or lyrics or rhythm. That being said, as they say, poetry is subjective and I thought some like "Separate Cage" were well thought out and executed. Perhaps shortening the length of the book may tighten up the overall flow and an introduction or preface would have helped to prepare the reader for where the poems were coming from and the inspiration behind them. Overall, I came away with the impression that this is an eclectic mix of poems about human life and emotions. - Reviewed by Gisela Dixon
OUT NOW!!  Purchase\download Paul's new book of verse, "Seven Centers", from any of the following e-pub online stores:
iBooks, Amazon Kindle, Barnes & Noble, Kobo, Baker & Taylor, Copia, Gardners, eSentral, Scribd, Goodreads, Ciando, Vearsa (Google Play, Overdrive, Playster, Hoopla)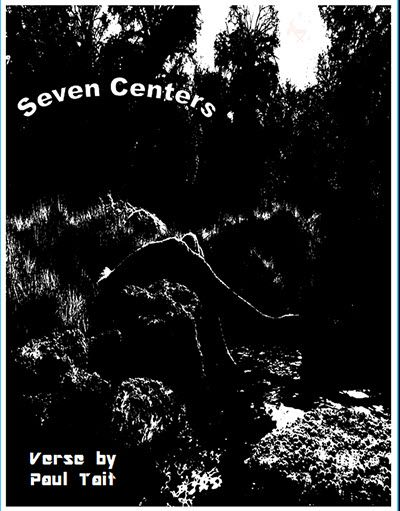 The Sand ' Ashes  Reviews Are In!!

"BRILLIANT, SIMPLY BRILLIANT"

Review rating: 5 Stars -reviewed by Rabia Tanveer

Sand 'n Ashes by Paul Tait is a collection of ninety-five poems that covers everything from love to affection to anguish to transcendence and everything in between. The poems look deceptively easy and simple, but when you read further, you realize that there is something far deeper than one expects. I had to take my time with these poems. I am a former literature student and I thought these poems would be a piece of cake for me.  However, these poems were so good, I had to take a moment, step back, and appreciate them for what they offer.

My favorite part of this collection was the one called "Fragments" because these were short, sweet little verses that were very deep and had hidden meanings. Every time I read them, I got to decipher another meaning and something far more different than what I had thought before. My favorites were "Bones Party," "Bloodletting," "Cannot Fool the Lie," "Track 13," "How Often Do I Scream" and "Nine for Movement." These were rich poems that gave me something more than I was expecting and I loved that. "Glass Tower" is another favorite and so is the "Stale Break Rotten Cheese."

The artistry involved in writing Sand 'n Ashes is brilliant and very dynamic. Poet Paul Tait showed his true genius when he expressed his thoughts in the minimum amount of words. The poems were deep; the words were heartfelt and very creative. I felt that I gravitated towards the darker and deeper poems and he handled them beautifully. These poems are really cool and I was lost in them! Brilliant, simply brilliant!

5 Stars - reviewed by Christian Sia

Did you talk about his earlier works? Why didn't I know about them? You know, I am a fan of Paul Tait, yes, just recently, after discovery the gem that is Sand 'n Ashes, the most gorgeous collection of poems I have read this year, and one that I will carry with me for a long time, together with Yogo Poems: Lines to Unfold By by Leza Lowitz. In this slim book, the reader receives an offering of ninety-five, well-crafted poems that feature exciting themes — time, love, the crude day-to-day reality that stares one in the face with its monotony, the throb of life, dreams, wishes, and death. But there is more in between; energy, music, style, and the seductive voice that calls the reader to read between the lines and listen to the silences.

One of my most favorites is "Kerosene Spleen," a rhythmic poem that is loaded with imagery and beauty: "If you choose / the blues / Oh, yeah, man – / all the way / If you drink/ Kitchen sink /Kerosene / spleen / Play 'n play /Don't curse the day /She graces your pleasure /Bends over forever /Don't mess with it /Eat well from the feast /Trees shall be / Reborn." Paul Tait demonstrates wonderful mastery of the science of free verse, and his rhythmic style measures with the rhythm of the reader's heart. Each line break is timely and calculated.

The lines are short, exciting, and elegant. I enjoyed the diction which draws from the common experiences of life, each word carefully chosen and endowed with poetic energy. Sand 'n Ashes is a beautiful collection and readers will easily identify with the wonderful poetic seasons it evokes. Paul Tait's poetry is a delightful read for fans of free verse and I will be going back to it to read some of my favorite lines.

5 Stars - reviewed by Romauld Dzemo

Sand 'n Ashes by Paul Tait is a beautiful collection of 95 poems that are captivating to read, poems that assemble a wide variety of themes touching on humanity, time and freedom, friendship, human intercourse, dreams, and a lot more. The poems read like little pearls. They are short, written in free verse, and they capture emotions that we hardly recognize, and as the reader reads from one poem to another, they feel a powerful connection to their own humanity.

The style is simple, conversational, and at times the poetic voice addresses the joys and fears, the aspirations and the dreams of the reader. Listen to the first lines of the first poem and feel the emotion and the invitation to follow one's heart, delivered with such compelling simplicity:

"You're tired
You want to leave
Get your coat
Tug the breeze
Follow your instincts
Follow your sun
After all,
You are the one.

Some of Paul Tait's poems are loaded with insight. Some are just plain delightful and the reader can just enjoy their poetic beauty, the fast rhythm, the wonderful imagery and their evocative character. The familiar, contemporary diction of these poems makes them easy to read and the author has a knack for poetic phraseology. No line read awkward to me and I enjoyed the overall length of each poem. Sand 'n Ashes is a collection that will delight fans of free verse and I believe that everyone can find a poem with a message that resonates powerfully in their heart.

5 Stars - reviewed by Rich Follet

Sand 'n Ashes by Paul Tait has a raw, visceral, quicksilver eloquence strikingly dissimilar to the mainstream of contemporary poetry. His staccato metaphors and images bob and weave like a champion bantamweight boxer, making Sand 'n Ashes a thrilling poetic experience. Underpinning the mile-a-minute pace of Tait's stunning verse is a simultaneously romantic and darkly threatening poetic voice -- a dangerous but irresistible splaying of words upon the page, alternately suggesting rose petals and blood spatter.
In Open a Cultured Vein, Tait displays the darker side of his gifts in a dire description of the American Dream: "It's a mess/One big pile/of tape/Tape and blood/Spit and mud/Young hearts torn to shreds/Friends and foes left for dead/But that is how it is/How it goes."

Compelling though his darkness may be, there is also a radiant stream of celebratory light running through Paul Tait's work, as if he is vividly painting the joys of being human even as he rues human frailty. The gods and Fate play a key role in Tait's verse, as in the human journey. There is a fatalistic, faintly futile sense of enduring hope running through many of Tait's poems; for example, Electric Promethean: "We've got the fire this time/Prometheus plays the drums/Got to go/Make the show/Whatever else may come/Will come/Tonight."

Paul Tait is a courageous poet, unafraid of challenging the status quo. From 11:17 pm: "Astrologer!/How dare you be so bold!/Patterns of the stars/Cannot be bought and sold." 
The success of Sand 'n' Ashes lies ultimately in Paul Tait's sublime gift for juxtaposing contrasting elements -- joy with despair; love with loss; hope with hopelessness; hubris with humility. Paul Tait is a man keenly aware that all delight is temporal; all success elusive and fleeting. He approaches even his prodigious talent with a kind of wry vulnerability that is achingly human. From Miss Muse: "What am I thinking?/How much have I been drinking?/There is no other life for me/'cept to be/With you/Miss Muse." One cannot help but wish that Fate will continue to favor this particular poet/muse relationship.
Purchase "Sand 'n Ashes" and all of Paul's poetry volumes online at iBooks, Amazon Kindle, Barnes & Noble, Kobo, Baker & Taylor, Copia, Gardners, eSentral, Scribd, Goodreads, Ciando, Vearsa (Google Play, Overdrive, Playster, Hoopla)
Reviews are in for "Pirate Conductor"!


Review Rating:    5 stars By Jamie Michele

Pirate Conductor by Paul Tait is a compilation of the author's poetry, the third he's released following Markings in the Cave and Stray Lines. In Pirate Conductor, Tait has released eighty-four new poems. They range in topics that include (from among the ones which especially stood out to me): the environment, in his poem Flint; "remember when" reminiscing in his poem Poet's Garret and a Landscape Gaze; impure extraneous relationships, in his poem Pestilence; and death, in his poem I Placed Flowers On Your Grave. Many of Tait's poems have Christian juxtaposition, but it's applied with an even hand through the collection. It's evident that the author pours his experiences into his work, particularly when reading the deeply personal lines of Apart from My Eyes and Face, where he says, "Poems are like cries, releases of tension, a cleansing of soul sources..."

All of Tait's poetry is comprised of tightly woven lines and a perfect balance of rhyme, alliteration, and assonance. Readers will find multiple layers of meaning and insight throughout Pirate Conductor, where an easy rhythm often highlights deeper text, and similarity is found in things that would otherwise seem dissimilar. It may sound like a contradiction, but Tait uses an expert, experienced brush in painting this book of poetry, both as a whole and when broken down in each line. I found myself frequently rereading verses, then sitting back and thinking, "Well, I'll be damned..." I recommend Pirate Conductor by Paul Tait to any aficionado of skilfully penned poetry, as well as to those who are looking for something more poignant and heartfelt to read.

Review Rating:    5 stars
Reviewed By Faridah Nassozi

Pirate Conductor by Paul Tait is a collection of deeply touching and impeccable poems about life in its various ways and with its endless pleasures and pains. Some of the poems depict life's complexity while others challenge these to show life's sheer simplicity, with the two contrasting angles forming a perfect blend of poems. The distinctiveness of the poems in Pirate Conductor flows straight from the alluring titles to the unique style of poetry, expressing deeply moving emotions. Each of the poems is brief, and yet carries so much depth and so much emotion.

Pirate Conductor by Paul Tait contains poems presented with an almost enchanting rhythm and a tone that will captivate your mind. The poems deliver and depict the elusive promise of life, love, pleasure and happiness that is just right there but somehow out of reach. Some of these poems present like a delicate and elusive dance between pain and pleasure, intended to speak directly to your heart - unleashing a flood of raw emotions. The beauty of Paul Tait's poems is in their depth and how multi-faceted they are; you have to draw compound meanings from each poem, making them fitting for any moment in life. If you are looking for a one of a kind poetry book that will draw you in and take you away, Paul Tait's Pirate Conductor is the book you are looking for. You will find it an enchantingly thrilling read. Presented in their raw form, the emotions are genuine and deeply reaching, making for an exciting moment.
 
Review Rating:    4 stars.  Reviewed By Ryan Jordan

Pirate Conductor by Paul Tait is a volume of short poems that cover a wide range of topics, including things like graduating from high school and being forced to move on with one's life, to love as both a burden and a joy. It is his third such volume and contains a great number of poems. I particularly liked 'When the nights were warm' and 'Period Peace' for their elegant simplicity and the flow hidden within the lines of the text. The latter poem contains only a series of words followed by exaggerated punctuation and was quite interesting. This volume is full of poems of various styles, but few of them go beyond a few simple stanzas into anything longer. They are all punchy, though, with powerfully chosen words that are quite impactful.

The formatting and punctuation is limited for effect, and even the capitalization is intentionally inconsistent to make the entire work feel a tad dystopian, an effect which can feel a little bit forced at times, but overall it works. Also, the sheer number of poems actually takes some of the punch away from the volume. There were more than a few excellent works and some of them were very impactful. All in all, Pirate Conductor by Paul Tait is a worthy volume of poetry sure to entertain many different readers who enjoy non-themed but excellent poetry!
Review Rating: 4 stars.  Reviewed By Marta Tandori
Pirate Conductor is poet Paul Tait's third book of verse, with previous volumes being Markings in the Cave and Stray Lines. Verse has been historically defined as writing arranged with a metrical rhythm, typically having a rhyme. More recently, however, verse has come to represent any division or grouping of words in a poetic composition. Tait offers all of the above, with almost a flair for the uncaring, as if the words merely flow from him without rhyme or reason, simply to be there; to shock, to provoke thought, and to wrench emotion from his readers as they read the words he has laid bare. In other words, he has laid bare his soul in snatches of words grouped together in what is known, and commonly accepted as, "verse".

Tait's offerings are as varied as his emotional spectrum from Sad Soul Part of Me to After Her Death to Bleeding Internal to the hauntingly poignant The Splinter and the Beam. Not all of his offerings are sad, however. He offers us the hope that comes with first love in My God It Really Happened, to the more upbeat Sunday Morning Service, to my personal favorite, Summer Distance Autumn State. Poetry is visceral and subjective and, sometimes, it's the words that make up a title that truly resonate. Tait has some interesting ones such as Pedestrian Eloquence, Middle Ground Abstract, Carefree Lightfoot and Apart from My Eyes and Face. Whatever your mood, whatever your emotional need, Paul Tait's Pirate Conductor has something for all lovers of poetry.
Paul's third book of verse, "Pirate Conductor", will be available world-wide on September 5th!
September 5th!!  At these fine e-pub retailers:  iBookstore, Amazon Kindle, Barnes & Noble, Kobo, Baker & Taylor, Copia, Gardners, eSentral, Scribd, Goodreads, Oyster, Flipkart, Ciando, EBSCO, and Vearsa.
Reviews for "Markings in the Cave"!!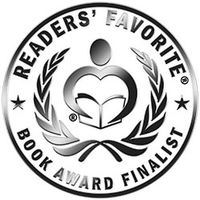 Rating: 5 Stars
Reviewed By Joel R. Dennstedt (Reader's Favorite)
Markings in the Cave, a brilliant collection of short poems by Paul Tait, is a profoundly personal selection of one man's musings - perhaps unheard by the silently attentive universe that he addresses. A theme emerges from these plaintive ruminations of the soul – an unusual, contrapuntal theme told in both harmonic and discordant tones – that seems to stress a tenuous but ever-present tension between the suffering in the world and the hope embedded in religion, with a frequent interjection and nod to the comforting distortion of personal spirituality.
These poems are concise and often highly structured, but like a waterfall over boulders they always flow. The verse often ranges from the subliminal to the sublime, evoking from the wreckage of an imperfect world the possibility of hope and sacred redemption, though always with a shred of doubt. Whether pondering the elusive state of marriage or the illusive promises of death, the poetry resonates with both raw and ethereal truths that are almost fully realized, but fortunately not quite.
Paul Tait has created from his musings in Markings in the Cave a perfect and exquisite minor gem on which to gaze and from which to reflect on one's own fallible existence in this world. Have we been abandoned to our lowly selves by our Creator, leaving us with the question asked in I Need the Moon to Renew my Eyes: Or are all God's given gifts/Interminable rifts/With the sovereignty of man? Must we despair, as offered in The Haunted Face of the Soul You Deserted: You are not prepared – you cannot divert it/The haunted face of the soul you deserted. Must we proclaim as one man does in Empty Net: Still, I can't help needing/What I haven't got.
The poet is not afraid to include a subtle rhyme or two to make his poetry sing, but every rhyme is situated perfectly within the rhythm of its verse, and these poems would be much the less without them. I feel very fortunate to have chanced upon this poetry.
Reviewers addendum:  "I feel very fortunate to have chanced upon your poetry. I dislike about 99% of contemporary attempts at writing verse. Yours is exquisite."
Review by Marta Tandori  Rating: 4 Stars
Markings in the Cave by Paul Tait offers the author's insights into Life – the spiritual Life, the after Life, the domestic Life, the love Life and all forms of Life in between, told through his Jungian "self" which somehow makes what Tait has to say all the more effective. For some poets, it has been said that they use verse as a means of sharing their thoughts with some semblance of loose structure while others use verse to present their thoughts and idealism in rhyme and rhythm. Perhaps by giving their thoughts some semblance of structure, it provides the poets with validation of some kind. Whatever the reason behind the verses, creativity nevertheless flows freely as the poet's thoughts are tapped and words take shape, materializing in a way that is both profound and highly subjective.
Tait's offerings seem to cover both free verse and blank verse; a free verse having no set rhyming scheme and no set pattern, and the blank verse having no rhyming effect but being set in iambic pentameter. Markings in the Cave are all about Life Markings: The Self, the Ego and the Soul as well as Box, clinical observations on what the author once was, as represented by the contents of a box, to more bittersweet reflections in Had I Known Your Name. Each verse strikes at a core of vulnerability in Domesticity, Parts One and Two and Like the Breath of a Candle. Some might arguably take the stance that Paul Tait's offerings are merely the ramblings of a man who hides behind words which seemingly have no meaning. Perhaps…except that for every argument, there's always a flip side. How about Paul Tait exposing his vulnerabilities, his passions and his life as he knows it and believes it to be in Markings in the Cave, in plain view for all to see and experience through his eyes? How's THAT for a flip side?
Reviewed by Tracy A. Fischer  5 Stars
Ahh, poetry. The genre of literature that perhaps above all others expresses a person's feelings in the most primal and beautiful way possible. I love a great work of poetry, and search it out often. Most frequently, however, what I find is not work that provides the transcendental quality that lovers of the poetic form are looking for. Well, this certainly is not the case for the new work by poet Paul Tait, Markings in the Cave. A short work, this book will provide readers with a truly beautiful experience of poetry. The topics vary from domestic life to spiritual life and more, but the one thing that draws the work together is the poet's unique voice and framework.

I very much enjoyed Markings in the Cave. Paul Tait has provided his readers with a lovely collection that will resonate deeply within their psyches and their hearts. The rhythm of many of the poems is almost musical. The work is very readable, but readers will find themselves pausing between each separate poem for at least a beat, taking in and allowing the words to wash over them. I can easily state with confidence that this is a highly successful collection, and am extremely pleased to be able to recommend it to any reader who is already a lover of poetry, as well as those who might be considering a foray into this genre for the first time. Poet Paul Tait has an obviously outstanding talent, and I certainly hope that he is already working on his next volume of verse. If it's anything like Markings in the Cave, it will absolutely be worth reading!
Paul's latest book of verse\poetry, "Markings in the Cave", will be online February 24th!!  Pre-order now on Amazon.com!
Now available online!  Paul Tait's critically acclaimed first volume of verse, "Stray Lines"!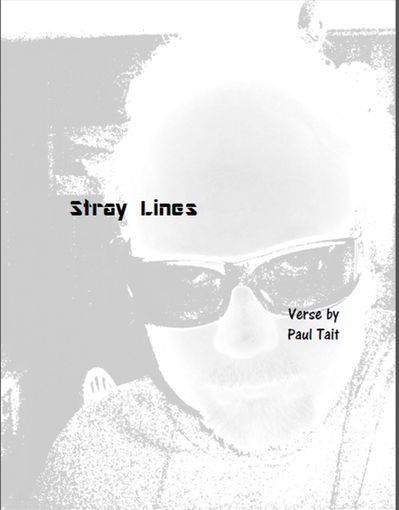 Available at iBookstore, Amazon Kindle, Barnes & Noble, Kobo, Baker & Taylor, Copia, Gardners, eSentral, Scribd, Goodreads, Oyster, Flipkart, Ciando, EBSCO, and Vearsa.
Reader's Favorite gives "Stray Lines" a Five Star review:
Review Raiting:  5 stars!
Reviewed By K.C. Finn for Readers' Favorite

Stray Lines is a collection of poetry by singer-songwriter Paul Tait. As the title suggests, the poems cover varying topics and emotional states, suggesting themes drawn from the author's past and present states. There is a general sense of alienation and displacement from the world running through most of the verses, as well as a true musicality that makes it impossible to read the words without hearing a certain rhythm and melody in your head. Despite its sometimes sentimental themes, the whole collection leaves you feeling thoughtful and invigorated after reading, and I for one could not put it down.

From the word go, Paul Tait's beautiful lyricism had me in its grip. The lexical choices, line lengths and combinations that Tait creates in his poetry are spot on to evoke the desired emotions for every different verse in the collection. Stray Lines also stands out for me particularly due to its inherent musical quality, which is rarely successful in the poetic world, but a total triumph in this collection. Whilst I enjoyed every single poem, some particular favourites of mine from the collection were the trapped and fearful sensations in 'Even Questions Have No Home' and the slow paced beautiful imagery of 'Thank You'. As a former literary student and an English teacher myself, I can safely say I've never read contemporary poetry this good. Paul Tait's Stray Lines is sure to delight any fan of beautiful, sophisticated wordplay and evocative imagery. Overall, a superb collection penned by an undeniably talented individual.
Top Paul Tait Videos for 2015
Click here to watch Paul's top viewed videos for 2015!